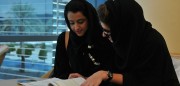 RSVP your attendence
Login to RSVP
Arabic Reading & Writing Course
Tue, 2 April 2019
, 7.45 -9.45 pm | Arabic
Peace Centre
Arabic Council
Mohd Abd El Aziz
Fees: 150
Read & Write & Type Arabic in just 5 days! This course will help you to learn Arabic reading and writing with confidence from level 0 to a stable stage in the reading with or without vowels.
Course Content:
The Arabic Alphabet (الحُرُوفُ العَرَبِيَّةُ) and how to pronounce it.
The Arabic Alphabet wit short Vowels ( الفَتْحَةُ - الكَسْرَةُ - الضَّمْةُ - السُّكُونُ - التَّنْوِينُ)
The Arabic long vowels,
How to spell the words and pronounce it easily & correctly.
How to write and join the Arabic letter at the beginning, middle, end & after irregular letters to make a word.
The Arabic daily Greetings & the reading of ( Allah 99 Names)
How to type Arabic in PC keyboard & HP.
knowledge and interdiction about the Arabic language & More...!

Who can attend this course?
Who wants to know how beautiful the Arabic language!
Who wants to read the Quran or Arabic correct & easy way!
Who traveling to the Middle East and North Africa
Who like to search or discover other peoples culture.
Who have kids study in a madrasah in order to help them!
Details
Course Info:
Age: 16+
Level: all levels
Total Fees: S$150
(including registration fees, book, notebooks, Arabic keyboard stickers)
The course once a week every Tuesday for 2 hours.

---
Terms and Conditions:
1) Full Payments are to be made before Course starts.
2) NO REFUND for participants that fail to attend the Course. Ensure you can commit to the course timings.
3) Participants will be given Notes.
4) Participants are to attend the course punctually and inform organiser early if they are late.
5) Organiser has the rights to make changes to the schedule or cancel the course. Participants will be informed in advance for changes.
---
How to Register?
Method 1) Payment by Cash / Nets
- Please call our HOTLINE @ 9231 7430 during office hours to arrange an appointment for payment.
Our office operates from Monday to Friday, 10.30am to 6.30pm. We are closed on Saturday, Sunday and Public Holiday.
Method 2) Bank Transfer / Debit Card / Paypal / ENETs
- Use the Registration system shown below.
Step 1: Choose the quantity
Step 2: Fill in your details
Step 3: Choose your mode of payment and proceed with payment.
Register Now
1
Select Ticket
2
Your Details
3
Make Payment
Location
Peace Centre
1 Sophia Road, #03-12, Singapore 228149
Organisers
Arabic Council
Our Vision Arabic Council aims to help non-native speaking to learn the Arabic language in an easy ...
Speakers
Sponsor this Project
IslamicEvents.SG Development Sponsorship
Current
SGD 49,282.00
SGD 100000
Target (31 Dec 2018)
Contribute Now »
Related Events