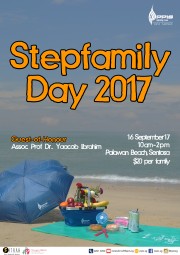 RSVP your attendence
Login to RSVP
International Stepfamily Day! (Meraihkan Hari Keluarga Tiri!)
[Event has ended]
Sat, 16 September 2017
, 10 pagi - 2ptg | Malay
Palawan Beach, Sentosa
PPIS Vista Sakinah
Fees: $20 untuk sekeluarga
PPIS Vista Sakinah menganjurkan hari keluarga khas untuk mereka yang berada dalam keluarga tiri.

Ayuh! Ikuti kami dan keluarga tiri yang lain untuk meraihkan hari istimewa ini!

Perayaan ini adalah yang pertama di raihkan di Singapura. Jika anda berada di dalam keluarga tiri dan ingin mengambil kesempatan ini untuk mengeratkan lagi hubungan kekeluargaan dalam keluarga tiri anda, mari ikuti kami untuk meraihkan hari istimewa ini di Sentosa bersama pengacara, Oniatta Effendi.

Hanya S$20 sahaja bagi setiap keluarga termasuk anak-anak. Tempat terhad! Daftarlah sekarang! Harga termasuk tiket masuk ke Sentosa, makanan ringan dan cabutan bertuah.

Jadikan 16 SEPTEMBER 2017 ini hari bersejarah untuk anda sekeluarga juga!
Details
International Stepfamily Day! (Meraihkan Hari Keluarga Tiri!)

Tarikh: Sabtu, 16 September 2017

Masa: 10 pagi - 2 petang

Tempat: Palawan Beach, Sentosa

Yuran untuk sekeluarga: $20 sahaja.

Ingin mendaftar?

Terma dan Syarat:
1) Pembayaran penuh hendaklah dibuat sebelum hari acara.
2) Tiada bayaran balik bagi peserta sekiranya anda menarik diri selepas buat bayaran.
3) Peserta perlu menghadiri acara ini tepat pada masanya dan memaklumkan penganjur awal jika mereka lewat.
4) Penganjur mempunyai hak untuk membuat perubahan kepada jadual atau membatalkan kursus. Peserta akan dimaklumkan sekiranya ada perubahan.

Kaedah 1) Bayaran Tunai / Nets
- Sila hubungi HOTLINE kami @ 6871 8744 untuk mengatur pelantikan untuk pembayaran.

Kaedah 2) Pindahan Bank / Kad Debit / Paypal
- Gunakan sistem Pendaftaran di bawah.

Langkah 1: Pilih Kuantiti
Langkah 2: Isikan butir-butir anda
Langkah 3: Pilih kaedah pembayaran anda dan teruskan dengan Pembayaran.
Location
Palawan Beach, Sentosa
Palawan Beach Sentosa
Organisers
PPIS Vista Sakinah
At Vista Sakinah, we believe that you can definitely have a happy family in a remarriage. We know yo...
Sponsor this Project
IslamicEvents.SG Development Sponsorship
Current
SGD 38,194.00
SGD 100000
Target (31 Dec 2017)
Contribute Now »
Related Events