Qurban
Qurban Bangladesh for Rohingya 1439H/2018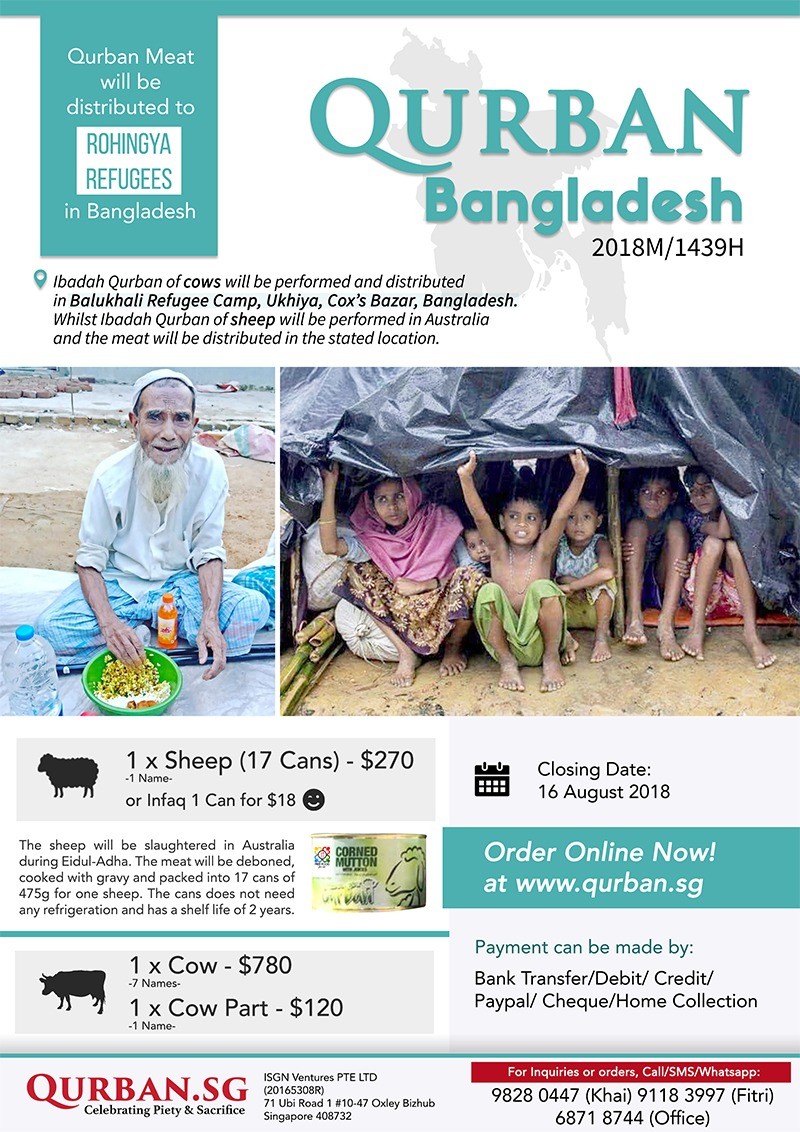 Package Details
Closing date: 16 August 2018

This year we collaborate with Free Food for All to perform Qurban for the Rohingya Refugees at Bangladesh, Cox Bazaar. Without refrigeration and good supply of electricity in the camps, it is not easy to preserve meat. So any animal sacrifice for food will be needed to be consumed as soon as possible. However, we know that the lack of food in this place and as much as possible we need to find a way to preserve it so that it can last longer. Hence, the idea of canned food was thought of. An International organisation based in Australian called MuslimAid has this solution that we were looking for.


How does it work?
The sheep will be slaughtered or Qurban in Australia during Eid. The meat will be deboned and packed into cans. Each can is about 425 grams. Estimated 1 sheep will generate about 17 cans. The cans needs no refrigeration and has a shelf life of 2 years. The canned meat are similar to sardine tins that we buy from the store. It can be open and heated up for best consumption. The canned meat will then be transported to Bangladesh, Cox's Bazar for distribution. This campaign is catered for those who do not want the meat but want to Donate it fully to the less fortunate. This option allows us to have the liberty of providing sustainable Qurban meat to our less fortunate beneficiaries, all year round.
How much does it cost?
Qurban Sheep (17 cans) - $270
Infaq (1 can) - $18
*Ibadah Qurban of Sheep will be performed in Australia and distributed in Balukhali Refugee Camp, Ukhiya, Cox's Bazar, Bangladesh.
Qurban Cow - $780
Qurban Cow Part - $120
*For Cow parts will be shared with others to get 7 names.
*Ibadah Qurban of Cows will be performed and distributed in Balukhali Refugee Camp, Ukhiya, Cox's Bazar, Bangladesh.
Package
For this package, you will only receive the report during the distribution of the cans. Estimated to be 2 months from Hari Raya Eiduladha. As the sheep are slaughtered in Australia, no pictures are allowed to be taken during the slaughtering process as the authorities do not allow it. Our partners will make sure that the names for Qurban will be read out dutifully and all the Qurban procedures are done according to the Shari'ah. Certificates will be given to full sheep Qurban orders only. The rest will receive the report by email.
Enquiries & Orders
To order, please call/WhatsApp/SMS 9828 0447 (Khai) or 9118 3997 (Fitri).
or Register Online by selecting the package/s of your choice below and hit the 'Register >>' button.
Payment options:
Option 1: Payment by Cheque. Details will be provided after registration has been made.
Option 2: Home / Office collection. Cash only. A despatcher will come to collect the cash. After registration, you will receive an email with an order ID. Simply reply to the email the full collection address and timing. Collection may take up to one week depending on despatcher availability.
Option 3: Bank Transfer. Details will be provided after registration has been made.
Option 4: Debit card / Credit card / PayPal. Details will be provided after registration has been made.
Option 5: Walk-in Payment/Others.
* You can arrange an appointment with our staff @ 9828 0447 (Khai) / 9118 3997 (Fitri) / 6871 8744 (Office)
* To make payment at our office: 71 Ubi Road 1 #10-47 Oxley Bizhub, Singapore 408732.
* Payment can be made by cash/NETS/debit card/credit card.
Terms
1) Full Payments are to be made latest Thursday, 16 August 2018. We appreciate if you could make payment early and avoid last minute payments as we need to pay the suppliers in advance.
2) No refunds once committed and payment is made.
3) In the event if there are mistakes and a thorough investigation is made, Qurban.sg will bear the losses and will perform the Qurban the following year at no additional cost.
Please read below before committing to Qurban
- Participants will receive certificate of Qurban within 3 months after Eidul Adha. Latest in January 2019.
- Unlike our daily aqiqah services, there are more sorting work to be done and the administration for the different locations may take a long time to process.
Main Organiser in Singapore: Free Food For All
Main Operator: Muslim Aid International
Marketing Partners: Qurban.sg and Islamicevents.sg
Closing date: 16 August 2018
Get your package now
1
Select Package
2
Your Details
3
Make Payment
Merchant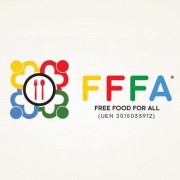 Free Food For All
Free Food for All (FFFA) is a strictly non-profit private initiative to feed the less fortunate, reg...