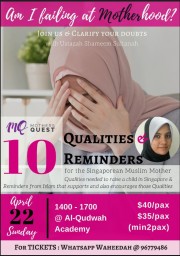 RSVP your attendance
10 Qualities and Reminders for the Singaporean Muslim Mother
[Event has ended]
Sun, 22 April 2018
, 2pm to 5pm | English
Al Qudwah Academy
MothersQuest
Ustazah Shameem Sultanah
motherhood, muslim
Fees: $40/pax
Am I failing at Motherhood?
Am I a BAD mother?
I do not know ...

Stop beating yourself up because you THINK you are not a good mother. Join us and clarify your DOUBTS.

Living in a fast paced society like Singapore, we are at times pressured into over achieving in all areas of our life including motherhood.

To keep with the changing society, as muslim mothers we find it so difficult to balance the need to raise child islamically versus following what is trending in society.

A lot of times, we are playing catching up with what society expects.
So a lot of times we end up feeling, we have FAILED.

This programme will cover
1. Qualities a Singapore mother needs to have in order to raise a child in Singapore
2. Reminders from an Islamic perspective which supports those qualities
3. Direct and clear cut reminders which can be effectively applied in our lives so that we do not have to keep doubting whether we are doing a good job.
i.e. Follow the REMINDERS, inshallah we are doing well in our motherhood journey.
Details
So REGISTER NOW us and STOP doubting yourself.

Programme is suitable for:-
Mothers of ALL ages.
We welcome you all.

Date : 22Apr2018
Time : 2pm to 5pm
Venue : Al-Qudwah Academy (1st Floor)
Speaker : Ustazah Shameem Sultanah
Pricing : $40/pax or $35/pax (min of 2 pax)

Location
Al Qudwah Academy
10/11 Pahang Street Singapore 198611
Organisers
Speakers
Ustazah Shameem Sultanah
Ustazah Shameem Sultanah graduated with a Degree in Syari'ah Islamiyyah from Al-Azhar Univers...
Sponsor this Project
IslamicEvents.SG Development Sponsorship
Current
SGD 49,282.00
SGD 100000
Target (31 Dec 2018)
Contribute Now »
Related Events